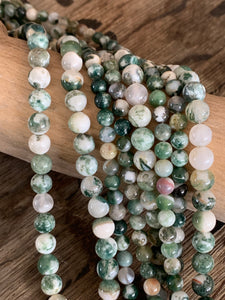 We have a large range of natural Agate beads to enhance your jewellery projects. Our beads are drilled with a 1mm hole and are of the highest quality.
--
Our range of natural Agate beads is sure to enhance any jewellery creation!  All high quality A Grade beads.
Tree Agate: Put down Spiritual Roots....Grounding....Earthing...Abundance...Good Luck
Tree Agate is considered to be a talisman in some parts of India, it is the stone of inner peace.
Gentle Tree Agate calms nerves and when combined with Clear Quartz it deepens meditation and prayer. It is a healer of geopathic stress by emitting it's calming and centering energies into the environment.
Tree Agate brings our focus to the oneness of us all, dissolving egoism and arrogance.
To find out more, check out our Gemstone Properties page. Approximate beads per strand for a full 16″ strand:
| | |
| --- | --- |
| Bead Size | Beads Per Strand |
| 4mm | 100 |
| 6mm | 65 |
| 8mm | 50 |
| 10mm | 40 |
| 12mm | 33 |