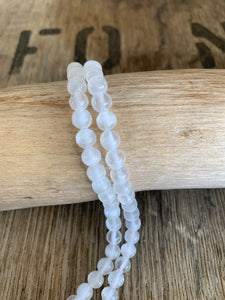 We have a large range of natural Selenite beads to enhance your jewellery projects. Our beads are drilled with a 1mm hole and are of the highest quality.
--
Our range of natural Selenite beads is sure to enhance any jewellery creation!  All high quality A Grade beads.
Selenite embodies a high vibration energy that works to help you to bring light down from the higher realms into the physical body, to create personal transformation.

The white or transparent crystals have a strong vibration that may open the crown chakra and the soul star chakra. This will assist you to contact the Divine Mind and to access the Angelic realm.
These are powerful high vibration healing crystals for you to use, that also deliver clarity of mind, by cleansing the aura of negative energy build up, both within the physical and the etheric body.